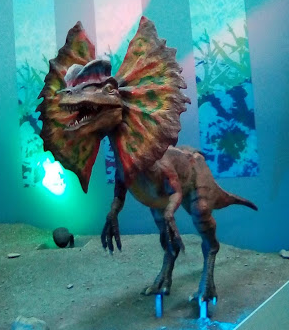 Dilophosaurus was one of the early carnivorous dinosaurs and lived in the early jurassic period, about 192 million years ago. It could be up to 7 meters long and weigh up to 400 kg. It got its name from the two crests on its head, and dilophosaurus actually means "two-crested lizard". The two crests were not strong enough to be used in battle, but it is believed they were used to show off and possibly to attract females.
Like the other big predatory dinosaurs, like the tyrannosaurus, dilophosaurus also had short arms. Because of this it is believed it relied on its jaw and saw-shaped teeth when hunting.
Dilophosaurus appeared in the movie Jurassic Park from 1993, but the way it was depicted in the movie is far from reality. In the movie dilophosaurus is smaller, has a frill and spits poison – but in reality it did none of these things.